Creating the first therapeutic for feline stomatitis
Imagine this: you adopt a beautiful 2 year old tabby cat from the shelter. Maybe his name is Garfield, maybe it isn't. Maybe he even loves lasagna.
About a month after you adopt him, you notice he's starting to hide from you. His food and water go untouched. When you try to check on him, you see him pawing his mouth. By the time you take him to the vet, he's drooling bloody saliva and keeps shaking his head in pain.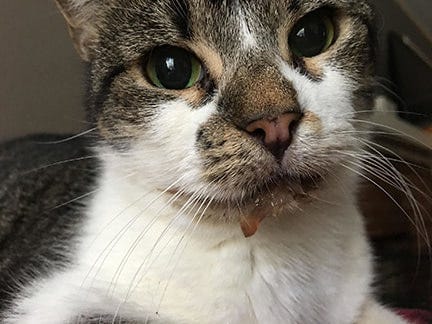 The vet tells you that your cat has feline stomatitis, an inflammation of the lips and gums similar to an incredibly severe version of human canker sores. He needs surgery immediately. It'll cost $2000, and they'll need to remove all of his teeth except his canines. The vet tells you that there's a 30% chance that the surgery won't succeed, but they'll cross that bridge when they come to it. The longer they wait, the worse your cat's stomatitis will get, and the longer he'll have gone without eating and drinking. So you agree to the surgery. What else can you do?

This is the reality for about 1 million cats per year in the US. Feline stomatitis is a devastating disease that affects about 1% of all cats, and the primary treatment is either full or partial dental extraction in order to remove the source of inflammation. While cats tend to recover surprisingly well from having their teeth pulled, surgery is expensive, traumatizing, and only effective about 70% of the time.
We aim to provide an alternative to dental extraction by combining a clinically proven immunosuppressant, cyclosporine, with our own metabolic inhibitor. While cyclosporine has been used in the past for feline stomatitis (as well as for a number of other animal and human autoimmune diseases), its use has been limited by its unpredictable metabolism and side effects. Our metabolic inhibitor regulates the absorption and excretion of cyclosporine, resulting in a safer, better version of cyclosporine that only needs to be dosed once weekly, rather than once daily.
Our trial will be finished by roughly mid-January, at which point we should know that our drug combination safely and effectively suppresses the cat immune system, is reasonably safe in general, and can still be effective if dosed once weekly in cats. At that point, we hope to either license the drug to a larger animal health company for immediate returns, or embark on a larger, more exhaustive cat safety trial to prove to the FDA that our drug combination is completely safe.

Our drug is protected by two separate pending patents, both created with the assistance of one of the best patent firms in the world, Choate. These patents cover the use of our drug combination in both animals and humans for any autoimmune or neurodegenerative disease, protecting us from bad actors who would attempt to profit off our hard work.
After this trial is finished, we believe a couple huge markets open up to us.
Creating better, safer immunosuppressants for animals and humans
First, there's the feline stomatitis market, which, as mentioned, US pet owners spend more than $1 billion/year treating. We believe even a conservatively priced treatment could easily bring in $100 million/year and still be incredibly cost-competitive. Our total cost to get to selling the drug would likely be about $5 million and take several years, as we go through cat safety trials, regulatory review, and a final, pivotal trial in cats with feline stomatitis. We may also have the option of licensing this animal drug to a larger animal health company to move onto the options below.
Second, there's the overall animal autoimmune market. Cyclosporine, as a general immunosuppressant, can be used for a variety of autoimmune diseases. The big one of these is atopic dermatitis, which Zoetis (formerly Pfizer Animal Health), is currently making $1.2 billion per year treating in dogs. While it'd be more difficult to compete directly with an animal health giant like Zoetis, our treatment could potentially take a chunk of that market.
Finally, there's the human autoimmune market. Cyclosporine was historically used for a variety of human autoimmune diseases, from inflammatory bowel disease to psoriasis. Its use has been curtailed by its safety issues, but our safer, more effective form of cyclosporine could retake those markets. Even if it can't, generic cyclosporine is still prescribed 2 million times per year in the US, resulting in a total market size of around $2 billion/year. Even if we can't expand the market for human cyclosporine at all, our safer, more effective, easier-to-take form of cyclosporine could easily reach $2 billion in revenue once approved, assuming it was priced significantly higher than the generic.
Who we are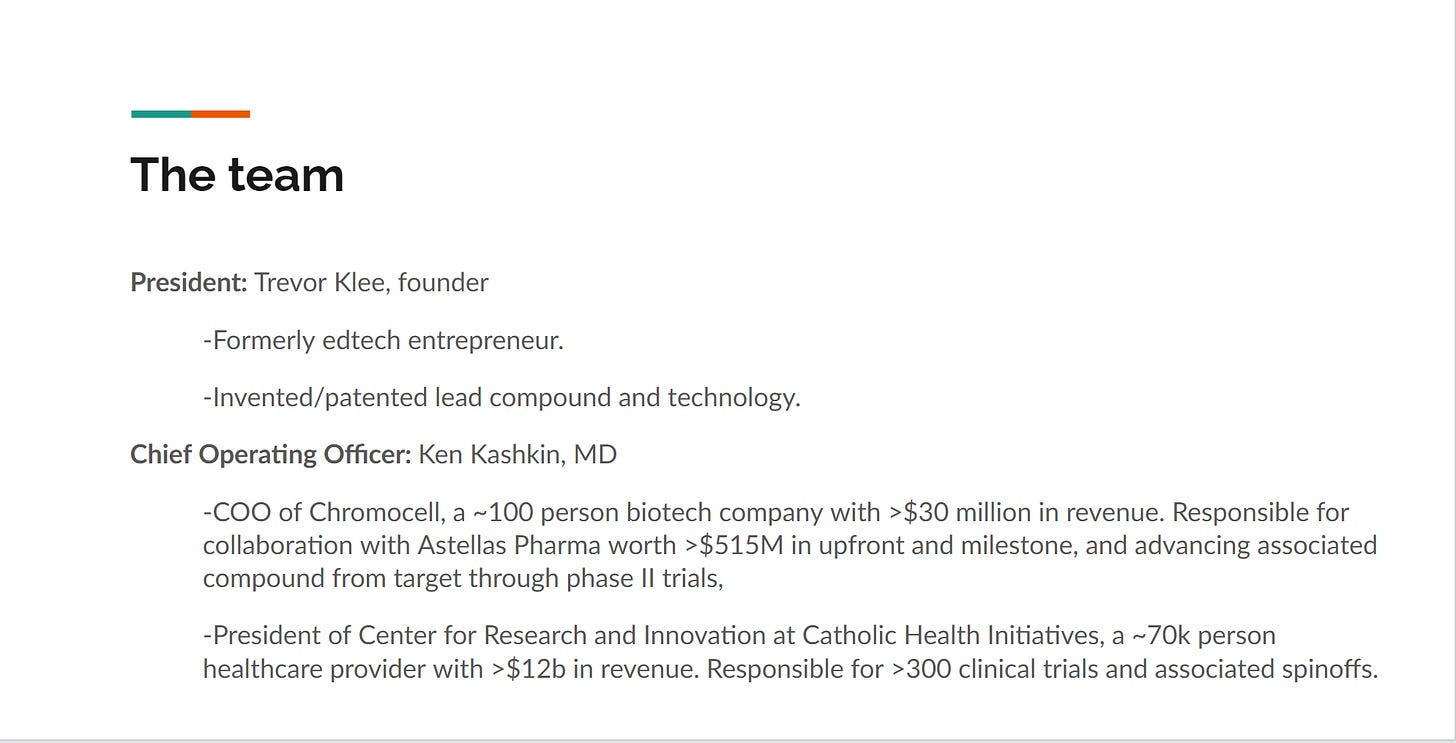 Information on this website pertains to pre-clinical or clinical candidates in development and has not been reviewed or approved by the Food and Drug Administration.